Pool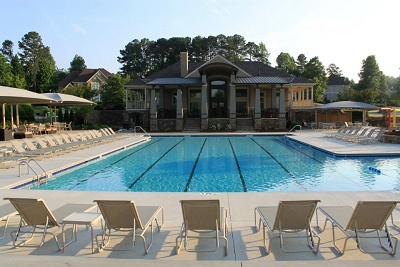 2020 POOL REGULATIONS
• If you are anyone in your household is experiencing COVID-19 symptoms, stay home and do not enter the pool area
• Capacity of the pool is reduced to 50 residents (adults and children) at a time so that we are able to adhere to the 6' social distancing requirement
- With the reduced capacity, residents are asked to limit your stay to 3 hours to allow others to use the pool
- Children under the age of 14 MUST always be accompanied by a parent
• To ensure there is capacity for all residents who want to use the pool; the pool is restricted to "residents only" (no guests)
• The restrooms will be open during hours of operation
• AMG (Access Management Group) will be mailing all pool codes to all residents in good standing on 8-3-20. Please be looking for them in your mailbox later this week! (FYI – they are your SAME pool codes as last year!)
• Practice Social Distancing of 6' between family units in and out of the water
• High Touch points will be sanitized twice a day
• Bring your own chairs. Unfortunately, we are not able to clean and disinfect the pool furniture after each use; therefore, residents will need to bring their own chairs
• Floats/balls/noodles, etc will not be allowed in the pool. Children may wear floaties
• In the unfortunate event anyone who visited the pool experiences a COVID-19 exposure, please contact Eric Lukas immediately (404-312-8247). The pool will be automatically closed for 72 hours for cleaning & sanitization
• New Pool Season/Hours
- Season: August 8th to September 30th
- Hours: 10am to 8pm daily
• Lifeguards and Monitors will be available ONLY on the weekends except the first week of operation (August 8th – 13th). They will be on duty from noon to 8pm. It is swim at your own risk from 10am to noon. Additionally, weekdays are swim at your own risk (starting August 14th)

POOL RULES
1. The gate to the pool area must be closed at all times.
2. NO GLASS CONTAINERS, BREAKABLE CONTAINERS, or chewing gum allowed in the pool area. Glass and breakable containers are strictly prohibited.
3. Prior to leaving the pool area all trash must be placed in the poolside trash receptacles provided. Plastic wrappers, plastic covers from straws on juice boxes, etc. must be placed in trash cans immediately in order to keep them out of the pool and the filter system.
4. For safety reasons the following activities are prohibited:
a) Running
b) Pushing
c) Jumping on Others
d) Spitting
e) Nose blowing in the pool
f) Dunking or holding others under water
g) Diving

ATTIRE
1. All persons must wear suitable bathing attire while swimming. Cutoffs or shorts with belts are not allowed.
2. In accordance with Forsyth County health department requirements:
a) Swimming with contagious diseases or infectious conditions, including blisters or cuts is prohibited.
b) Showering after heavy perspiration is required before entering the pool.
c) Any children not fully potty trained must wear swim diapers covered with plastic or rubber pants. In the event of an accident, the pool must close for a substantial period of time.


The 2020 Pool Operating Plan has been developed to provide as safe an environment as possible for those wanting to enjoy our pool this summer. This plan respects social distancing and health guidelines while maintaining a clean swimming environment. We ask each resident who chooses to utilize the pool to be respectful of one another and adhere to these new safety rules.


Click here for more information
Important Information
Location: Clubhouse
Hours: 10 am - 8 pm Daily
Opens: August 8, 2020
Closes: September 30, 2020